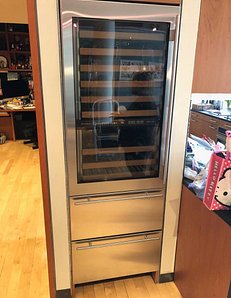 SUB-ZERO WINE COOLER PARTS WE FIX & REPLACE
Compressor
Compressor run capacitor
Compressor start relay
Compressor start electronics
Compressor motor kit
Condenser
Condenser fan
Condenser Fan Motor
Defrost Bi-metal
Defrost Heater
Defrost Thermistor
Defrost control assembly
Defrost drain heat probe
Defrost drain tube
Defrost heater harness kit
Defrost sensor
Defrost timer
Diffuser
Dispenser core control board
Door gasket
Door hinge and door stop
Door sensor
Drain pan
Electronic control board
Evaporator
Evaporator Fan Motor
Evaporator drip tray
Evaporator fan
Heat exchange
Ice maker kit
Ice dispenser motor
Ice maker assembly
Ice maker control module
Ice maker fill tube
Ice maker optic boards
Inverter
Light Switch
Overload/PTC relay
Power control board
Refrigerator door
Temperature control board
Temperature control thermostat
Thermistor
Water filter
Water inlet valve
Water supply tube
Wiring harness
And many more
Irregular flavor of wine

Irregular noise of wine cooler

Irregular temperature, different than set
SERVICE AREAS OF
SUB-ZERO AND WOLF SERVICES
Manhattan (Lower East Side, Civil District, Tribeca, Financial District, Battery Park City, East Village, West Village, Greenwich Village, SoHo, Bowery, Midtown, Upper East Side, Upper West Side, Harlem, Hells Kitchen, Chelsea, Union Square, Gramercy Park and others)
Brooklyn (Williamsburg, Park Slope, Brooklyn Heights, Dumbo, Fort Greene, Crown Heights, Bay Ridge, Greenpoint, Carrol Gardens, Cobble Hills, Downtown Brooklyn, Flatbush, Prospect Heights, Boerum Hill, Bedford-Stuyvesant and others)
Queens (Long Island City, Astoria, Woodside, Sunnyside, Forest Hills, Rego Park, Jackson Heights, Kew Gardents, Flushing, Fresh Meadows, Jamaica Estate and others)
Staten Island, Bronx, Nassau country and Westchester County.
If your Sub-zero wine cooler is creating inconsistent noises or irregular flavors then it may be an issue with your wine cooler and you should have Sub zero and Wolf Services take a look at it.
So remember, unlike refrigerators wine coolers don't build up ice, or don't smell, the main indicators you have to look for are:
Unlike most other appliances in your household it can be rather difficult to identify any problems that your wine cooler is having. You do not regularly take food items out of the wine cooler meaning that you have nothing to indicate to you that your wine is being stored at an improper temperature.

You may also not taste the wine that you are aging for years, so any problems may remain invisible until you perform maintenance on it. This is all the more reason that regular maintenance with Subzero wine cooler repair is vital for your wine cooler.

Another problem is that wine coolers are silent. They will not make unusual noises or disturb you when they are malfunctioning. You will be left entirely in the dark should your wine cooler abruptly kick the bucket.
WHY WINE COOLER MAINTENANCE IS IMPORTANT
We will provide you with an estimate that you approve before we perform any wine cooler repair. Our reasonably priced services will allow you to get the best appliance repair service at an affordable rate. We back up our work with a 100% Guarantee. Our technicians are professionally trained and have more than 15 years of experience in the industry.
Call us today to schedule your wine cooler maintenance service or repair!
Wine is the toughest item to store among alcoholic beverages, and in the modern houses unlike old-time cellars it requires certain conditions as it can easily react to vibration, light, humidity, temperature changes, and heat.
If you are a wine enthusiast, a wine cooler (wine fridge or wine refrigerator) is a convenient way to cool and store wine. The purpose of getting a wine cooler is to store wines well, and hopefully keep their flavors intact. With a controlled environment perfectly suited to meet the needs of both young and aged wine, a wine cooler not only protects and stores wine but does so efficiently and affordably.
Even a slight malfunction of your wine cooler can ruin the aging process and turn your wine into a sour, unsavory wine. In order to avoid this problem have your wine cooler examined once a year and if it needs repairs then have Sub-zero and Wolf Services take care of it.
SUB ZERO WINE COOLER REPAIR
Wine refrigerators come in all sorts of sizes. Differences in price often account for things like energy efficiency, quietness, humidity controls, structure and design. Many have dual temperature zones in case you want to keep your reds one temperature and your whites another (depending on the wine, wines should be stored anywhere between 50 and 60 degrees).
Sub-zero is the best wine cooler you can have among the ones available today, as it can serve more than 20 years if serviced regularly. If you are the owner of Sub-zero wine cooler then you should know the followings:
If your Sub-zero wine cooler is not functioning the way it is supposed to and you need top-notch wine cooler repair services, all you have to do is put your trust in Subzero and Wolf Services. We're a skilled business that caters to customers all throughout New York City and outer boroughs, Queens, Brooklyn and Staten Island. We're headquartered in the bustling Big Apple.
Invite one of certified technician from Sub-zero and Wolf Services and join thousands of happy customers all around New York City. Results are very satisfying! We can provide same day repair or maintenance service of any major brand and dispatch trained and certified technicians to resolve problems with your wine cooler so that you can enjoy and store your wine as long as you want.
You will not have to buy a new Sub-zero wine cooler or replace your expensive wine collection if you contact Sub-zero and Wolf Services, an experienced appliance repair company. We will send a wine cooler repair technician to your house to fix the issue, provide a quote and order parts if necessary.
SUB-ZERO WINE COOLER PROBLEMS WE SOLVE
Sub-zero wine cooler not cooling

Sub-zero wine cooler is making unusual loud noise

Frost buildup in the back panel of wine cooler

Sub-zero wine cooler is leaking

Sub-zero wine cooler door is wet

Sub-zero wine cooler compressor malfunctioning

Sub-zero wine cooler service sign is on

Sub-zero wine fridge temperature control panel is not responding

Sub-zero wine cooler thermostat is down

Sub-zero wine cooler fan motor is not running

Sub-zero wine cooler compressor is clicking

Sub-zero wine cooler does not have light

Subzero wine cooler stopped completely

And many more
WE WILL PROVE WE ARE DIFFERENT
NEED YOUR WINE COOLER REPAIRED?
WHY CHOOSE
SUB-ZERO AND WOLF SERVICES
Over 15 years of experience in the industry

Certified, trained and insured technicians

Flat rate pricing (No hourly rates, no extra charges for late or extra hours or weekends)

Same day repair services

90 percent of repairs done on initial visit

Flexible and convenient appointments

Profesional 24/7 customer service

No payment until your appliance is fixed

Extended warranty for parts and labor

We are local, based in the New York City

Fully-stocked trucks (our technicians have large inventory of major parts in stock in our vans)

Free service call if we do the job