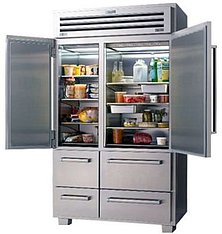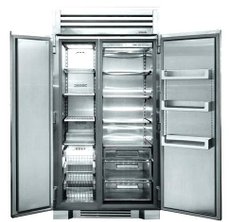 Compressor
Compressor run capacitor
Compressor start relay
Compressor start electronics
Compressor motor kit
Condenser
Condenser fan
Condenser Fan Motor
Defrost Bi-metal
Defrost Heater
Defrost Thermistor
Defrost control assembly
Defrost drain heat probe
Defrost drain tube
Defrost heater harness kit
Defrost sensor
Defrost timer
Diffuser
Dispenser core control board
Door gasket
Door hinge and door stop
Door sensor
Drain pan
Electronic control board
Evaporator
Evaporator Fan Motor
Evaporator drip tray
Evaporator fan
Heat exchange
Ice maker kit
Ice dispenser motor
Ice maker assembly
Ice maker control module
Ice maker fill tube
Ice maker optic boards
Inverter
Light Switch
Overload/PTC relay
Power control board
Refrigerator door
Temperature control board
Temperature control thermostat
Thermistor
Water filter
Water inlet valve
Water supply tube
Wiring harness
And many more
SUB-ZERO REFRIGERATOR PARTS WE FIX & REPLACE
Sub-zero Group, Inc. is an American manufacturer which builds refrigerators, wine coolers, ice makers fridges and freezers. Sub-zero brand name is known for superior quality, reliability and high-performance. It is one of the best brands of refrigerators and freezers in the world.
Your decision to purchase a Sub-zero refrigerator was a wise choice. Still the "Gold Standard" in refrigeration, Sub-zero has the best customer support system in the business for their refrigerators. However, that does not mean that you will not ever have refrigerator problems. After more than a decade in the refrigerator repair business, we can help answer some of the question you may have with your Sub-zero refrigerator problems.
Your Sub-zero product is not your typical appliance. It is cutting edge technology and nothing to be messed with. If you are ever unsure about the repairs/diagnosis that you are about to make, call Sub-zero and Wolf Repair Services, a professional repair company. We are trained and experienced in Sub-zero appliances.
Your Clean Condenser light is on. It might be a simple as your condenser coils might need to be cleaned on your Sub-zero, just as the light indicator light says. According to Sub-zero Group, Inc. you should have your coils professionally cleaned every 3-6 months to avoid refrigerator problems. If you are handy, you can do it yourself, but they must be thoroughly cleaned with a brush and vacuumed. If after cleaning, the light goes back on, you may have a bigger problem. Call Sub-zero and Wolf Repair Services before you lose cooling.
The bar between the refrigerator and freezer side is hot. Again, probably the coils are the problem.
Water leaking under the unit. Too many possible problems to mention. Cracked water lines, frozen lines, broken valves, clogged drainage lines, can all cause refrigerator problems and make your unit leak.
Loss of cooling, your Sub-Zero refrigerator and freezer has independent compressors, so one does not affect the other. If you lose cooling on either side, it will not affect the other. So do not turn the unit off if one side starts to lose cooling. Again, there are just too many possibilities here. Call a service professional, Sub-zero refigerator specialists, the technicians who specialize on Sub-zero, repair Sub-zero refrigerators profesionally. Defrost timers, fan motors, relays, compressors, to name a few, might be giving you refrigerator problems.
The reasons may be different, from freon leakage, to compressor's failure, to damaged electronics.
These things all signify possible refrigerator issues. That's why it is so critical to call technicians right away, whenever you have noticed that your fridge or freezer is malfunctioning.
With Sub-zero and Wolf Services you have the best warranty in the business, and we are here to help!
Invite one of certified technician from Sub-zero and Wolf Services and join thousands of happy customers all around New York City. Results are very satisfying! We can provide the same day Sub-zero refrigerator repair service and dispatch trained and certified Sub-zero technicians to resolve problems with your Sub-zero refrigerator.
Call us today to schedule your Sub-zero refrigerator repair!
NEED YOUR REFRIGERATOR REPAIRED?
SUB-ZERO REFRIGERATOR REPAIR
Are you noticing that your food is going bad?

Is your Sub-zero refrigerator panel (body) hot?

Are you picking up on unusual levels of condensation?

Is your Sub-zero refrigerator noisy or loud?

Is it leaking water from your Sub-zero refrigerator?

Ice build up on the back panel of your Sub-zero?

Is your Sub-zero refrigerator ice-maker not producing ice?

Is the Sub-zero control panel not responding or the lights out?

Is "service" error code displayed in the control panel, "wrench" is on?
Sub-zero refrigerator is not cooling

Sub-zero ice maker is not making ice cubes

Frost buildup in the freezer/fridge

Sub-zero refrigerator water dispenser is not working

Sub-zero refrigerator ice dispenser is not working

Sub-zero refrigerator compressor is malfunctioning

Sub-zero refrigerator is leaking water

Sub-zero refrigerator coils need to be cleaned

Sub-zero refrigerator needs gasket replacement

Sub-zero freezer or fridge stopped completely

Sub-zero refrigerator compressor is clicking

Sub-zero refrigerator defrost system is clogged

Sub-zero refrigerator drain is clogged

Refrigerator control panel is not lit

Sub-zero refrigerator making noise or too loud

Sub-zero refrigerator is freezing food

Sub-zero refrigerator service sign is on

Sub-zero refrigerator needs routine maintenance

Refrigerator light is not working

Sub-zero refrigerator has freon leak issue

Refrigerator is not defrosting

And many more
SYMPTOMS THAT SUB-ZERO NEEDS SERVICE
SUB-ZERO REFRIGERATOR PROBLEMS WE SOLVE
Manhattan (Lower East Side, Civil District, Tribeca, Financial District, Battery Park City, East Village, West Village, Greenwich Village, SoHo, Bowery, Midtown, Upper East Side, Upper West Side, Harlem, Hells Kitchen, Chelsea, Union Square, Gramercy Park and others)
Brooklyn (Williamsburg, Park Slope, Brooklyn Heights, Dumbo, Fort Greene, Crown Heights, Bay Ridge, Greenpoint, Carrol Gardens, Cobble Hills, Downtown Brooklyn, Flatbush, Prospect Heights, Boerum Hill, Bedford-Stuyvesant and others)
Queens (Long Island City, Astoria, Woodside, Sunnyside, Forest Hills, Rego Park, Jackson Heights, Kew Gardents, Flushing, Fresh Meadows, Jamaica Estate and others)
Staten Island, Bronx, Nassau country and Westchester County.
SERVICE AREAS OF
SUB-ZERO AND WOLF SERVICES
WE WILL PROVE WE ARE DIFFERENT
Over 15 years of experience in the industry

Certified, trained and insured technicians

Flat rate pricing (No hourly rates, no extra charges for late or extra hours or weekends)

Same day repair services

90 percent of repairs done on initial visit

Flexible and convenient appointments

Profesional 24/7 customer service

No payment until your appliance is fixed

Extended warranty for parts and labor

We are local, based in the New York City

Fully-stocked trucks (our technicians have large inventory of major parts in stock in our vans)

Free service call if we do the job
WHY CHOOSE
SUB-ZERO AND WOLF SERVICES